Couchbase Loves Open Source… and we're at ATO 2020!
Couchbase is proud to once again sponsor All Things Open in 2020. With features like N1QL (SQL for JSON), memory-first architecture, and automatic mobile sync, Couchbase Server and Couchbase Mobile are NoSQL databases that have "no equal".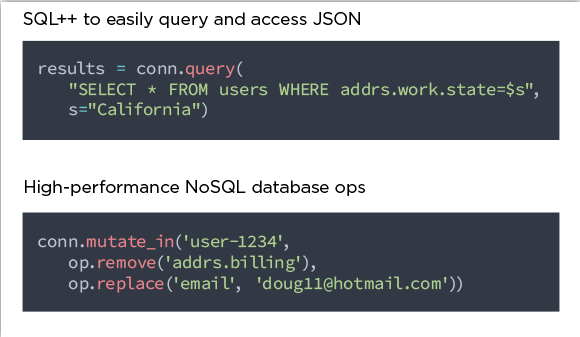 The All Things Open conference is a highlight for us every year, and that continues this year, even though the event looks a little different. Couchbase has long been a supporter of open software development. One of our latest efforts is the Ottoman JS V2 library: an updated NodeJS ODM currently in an alpha release. It can be previewed at v2.ottomanjs.com, and we are eager for feedback and contributions from JavaScript developers. It's installable through NPM, and you can check out the Installation Instructions for instructions on adding this package to your project.
This year, at All Things Open, make sure to check out the session Demystifying NoSQL: The SQL developer's guide: a highly interactive "choose your own adventure" session. Couchbase will also be presenting a sponsored session as well.
Make sure to come by the virtual "booth" this year! We have lots to talk about:
Chat with our technical staff / ask questions about using Couchbase in your project.
Check out the latest Couchbase demos/quickstarts
Sign up for our FREE Couchbase Connect conference, including 100 technical sessions, swag, prizes, and conversations.

Sign up for All Things Open right now!
---
This post is part of the 2020 ATO Sponsor Series where sponsors discuss a session they're hosting or simply what they'll be doing in the exhibit area. Couchbase is a Gold level sponsor.